The region of Arbutus Sabers in the Landes (40) in Aquitaine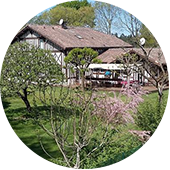 What to do during your stay in the Arbousiers ? Find here the region and beyond.
We have organised several guided tours which combine history, relaxation, nature, agriculture, rambling, or simply discovering new places.

There is lots more to do (Bicycle rides, Golf , Wine Trails, etc.) but let's leave some things to be discovered…
All these activities are within an hour's reach from our location.
Are you ready to prepare your vacation.